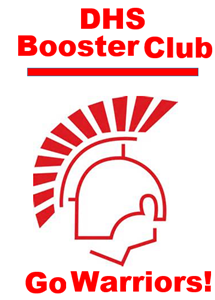 All Memberships Include
NFHS Network Streaming (live video streaming of home games)

Family Athletic Pass
II-Forno's Pizza discount key fob
Booster Club car decal
Family Athletic Pass
The DHS Family Athletic Pass will admit member, member's spouse, and pre-high school age children to regular season home athletic contests at DHS. Admission to home tournaments and IHSA State Series events may be excluded.
Grandparent Membership
Grandparent Membership must be purchased with a Gold, Silver, or Bronze Membership.
Membership Packets
Membership packets may be picked up at Warrior Welcome (8/16), Fall Sports Meeting (8/18), first home football game (8/21), or Open House (9/16). If you cannot pick up at one of these events, please add $1.00 for postage and your packet will be mailed.
For more information or to volunteer, please contact DHS Booster Club at [email protected]