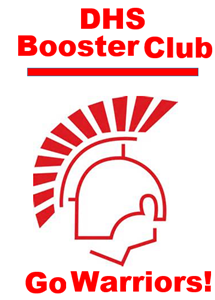 2019-2020 Upcoming Events
Aug 15 - Warrior Welcome
Aug 24 - Fall Sports Meeting
Aug 30 - First Home Football Game
Sept 4 - Open House
All Memberships Include
Subscription to NFHS Network; free live video
Family Athletic Pass
IL-Forno – $3.00 off dine in/carry out visits
Booster Club car decal
Family Athletic Pass
The DHS Family Athletic Pass will admit member, member's spouse, and pre-high school age children to regular season home athletic contests at DHS (Football, Boys/Girls Basketball, Wrestling). Admission to home tournaments and IHSA State Series events may be excluded.
Grandparent Membership
Grandparent Membership must be purchased with a Gold, Silver, or Bronze Membership.
Membership Packets
All membership packets will be mailed.
For more information or to volunteer, please contact DHS Booster Club at [email protected].