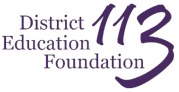 The purpose of the Foundation is to enhance and enrich the education programs at Deerfield and Highland Park High Schools by promoting and supporting innovative educational opportunities.
Funding and Grants
The District 113 Education Foundation has disbursed over $250,000 for more than 100 innovative grants in all departments and areas including STEAM (science, technology, engineering, art and math), Athletics, Language, Fine Arts, English, Social Sciences, and programs to support leadership, diversity, and social/emotional health.

Recent grant programs include Writers Week Festival, Food Science Equipment, Special Education Workshops, Mosaic Diversity, Leadership, South African Dance, Entrepreneur Incubator, Mitochondrial DNA, and Chinese Game-Based Learning.

Signature Grants funded FUSE labs at both Deerfield and Highland Park High Schools. The FUSE Labs, in partnership with Northwestern University, have 3D printers, digital devices, computers, and state-of-the-art projects giving students a hands-on introduction to STEAM education and careers.
Details
We are a 501(c)(3) organization. Your donation may be tax-deductible. Corporate matching gift programs are applicable. Please contact your HR department. For more information, visit the District 113 Education Foundation website.